The Anti Bioagent Decontamination (ABD) device is essential PPE for the workplace. It is the only product available in the market that can be used on sensitive skin surfaces like the eyes, nose and mouth.  It can also be used on surfaces not suitable for biocide decontamination.
Developed and tested specifically for decontaminating dangerous viruses like CORONAVIRUS, the ABD technology is currently applied using a large wipe material.
Unlike standard wipes and sanitisers, ABDs are free from alcohol, biocides and other toxic chemicals and so do not cause skin irritation or destroy skin cells. The wipe is largely made of biodegradable material and is therefore more environmentally friendly than other products.
Historically, decontamination products were developed to destroy viruses using alcohol or biocide-based chemicals. These chemicals have several detrimental effects on a person's health and the environment.
Aquila's technology uses a completely new mechanism for protecting against virus contamination.
Instead of trying to destroy the virus, complex glyco-sugars are infused in the wipe material, which then acts as a magnet, using natural and irreversible binding interactions to capture the pathogen, effectively neutralising it. 

A virus, like the coronavirus, attaches to the surface molecules of host cells (for example in our throat) which then serve as binding partners for the protein hooks on the viral particles. Once attached to the cells they enter our body depositing their RNA and ultimately leading to infection and disease.
The ABD device stops such bindings happening and protects people against such viruses.
€75.00

per box of

50

ABD Devices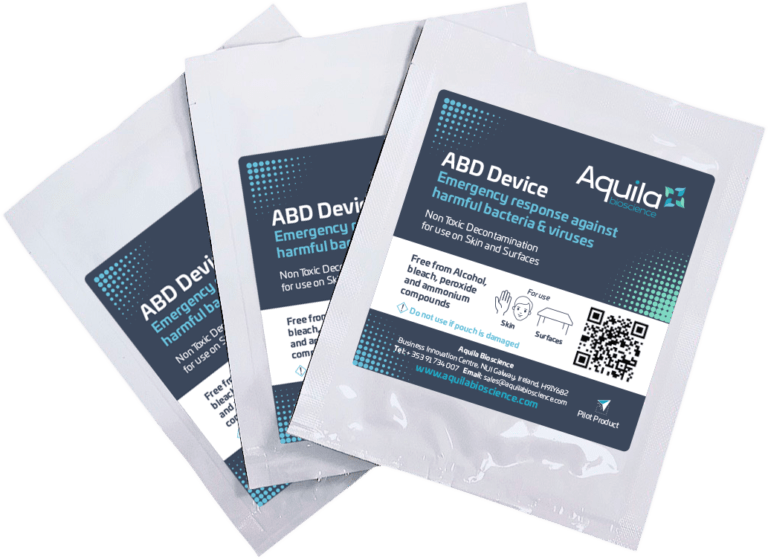 These prices are only for registered organisations in Ireland. For orders outside of Ireland please contact sales@aquilabioscience.com
ABD Product is sold online to Irish & UK organisations only at this time. For markets outside these territories please
contact our sales team
ABD Compared to Standard Handwipe
Suitable for eyes, nose, mouth

Side effects such as skin irritation, skin dryness

Suitable for sensitive surfaces

Prevents the spread of superbugs

Does not contain harmful chemicals