ABD Device
Education Sector Ireland
Emergency response against harmful bacteria and viruses
ABD Device
Education Sector Ireland
Emergency response against harmful bacteria and viruses
The Anti Bioagent Decontamination (ABD) device is essential PPE for the Schools, Creches and Colleges. It is the only product available in the market that can be used on sensitive skin surfaces like the eyes, nose and mouth.  It can also be used on surfaces not suitable for biocide decontamination.
Developed and tested specifically for decontaminating dangerous viruses like CORONAVIRUS, the ABD technology is currently applied using a large wipe material.
Unlike standard wipes and sanitisers, ABDs are free from alcohol, biocides and other toxic chemicals and so do not cause skin irritation or destroy skin cells. The wipe is made of biodegradable material and is therefore environmentally friendly.
Historically, decontamination products were developed to destroy viruses using alcohol or biocide-based chemicals. These chemicals have several detrimental effects on a person's health and the environment.
Aquila's technology uses a completely new mechanism for protecting against virus contamination.
Instead of trying to destroy the virus, complex glyco-sugars are infused in the wipe material, which then acts as a magnet, using natural and irreversible binding interactions to capture the pathogen, effectively neutralising it. 

A virus, like the coronavirus, attaches to the surface molecules of host cells (for example in our throat) which then serve as binding partners for the protein hooks on the viral particles. Once attached to the cells they enter our body depositing their RNA and ultimately leading to infection and disease.
The ABD device stops such bindings happening and protects people against such viruses.
€59.50

per box of

50

ABD Devices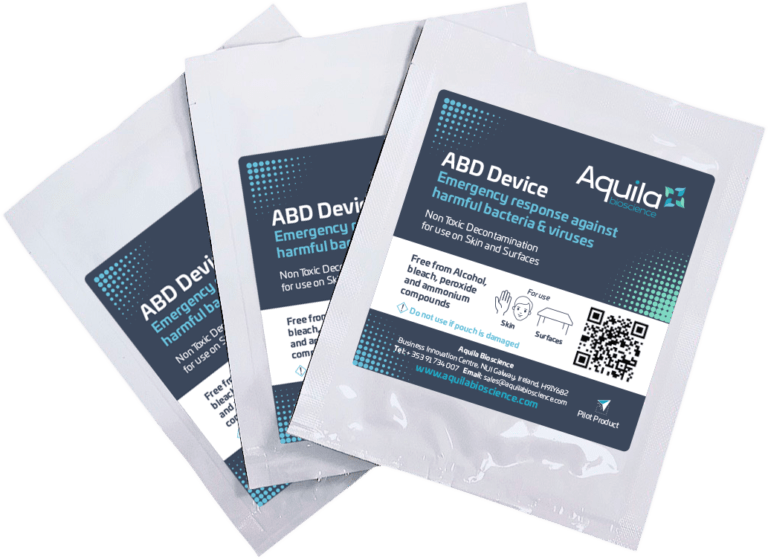 These prices are only applicable for registered educational institutions in Ireland. For orders outside of Ireland please contact sales@aquilabioscience.com
Approved supplier of PPE, Consumables and Equipment to the Irish Education Sector for the Department of Education:
ABD Product is sold online to Irish schools, colleges and training organisations only at this time. For sectors and countries outside of these please contact our sales team
ABD Compared to Standard Handwipe
| | | |
| --- | --- | --- |
| Class 1 Medical Device, Sterile | | |
| Suitable for eyes, nose, mouth | | |
| | | |
| Side effects such as skin irritation, skin dryness | | |
| Suitable for sensitive surfaces | | |
| Prevents the spread of superbugs | | |
| | | |
| | | |
| Does not contain harmful chemicals | | |
| | | |
ABDs are essential PPE for all educational sectors
Every First Aid kit & Isolation Room across the Education & Training Sector should have a supply of ABD Devices
Use the ABD Device when an infant, student or teacher accidentally coughs or sneezes and potentially contaminates others and their surrounding surfaces.
Add the ABD Devices to your first aid kits in the common areas, in the event of contamination due to poor cough and hygiene etiquette the designated first responder for that area will have immediate access to the ABD Device to decontaminate the affected person or surface.
Use the ABD device to decontaminate shared equipment in school halls and assembly areas.
If a student or member of staff is suspected of having contracted the coronavirus, use the ABD Devices to decontaminate all the equipment they may have come into contact with before allowing others to use it.
Use the ABD Devices to decontaminate student & staff lockers in the event of a suspected case of coronavirus.
If someone has to move to an Isolation Room, immediately dispense the ABD Devices to that person, and other co-workers they have recently come into contact with. 
Use the ABD Devices to clean down shared work surfaces such as desks, chairs, phones, keys boards, printers, remotes, filing cabinets and reduce the risk of spreading virus within your workforce.
If social distancing rules become difficult to enforce, ensure that each yard supervisor has access to the ABD Devices so that they can have a fast response to decontaminate the skin and equipment at any time.
Use the ABD Devices when the risk of contamination is increased. Wipe down kitchen areas, food preparation areas, work surfaces, tables and chairs.
Protect your staff and students from contracting the virus from others by using the ABD Device to wipe down face shields, protective screens at counters, check out tills, card payment machines.
ABDs are also suitable for everyday use
Frequently Asked Questions
All of the material provided on this website, and on the Aquila products, such as text, treatments, usage, outcomes, graphics, photographs, images, advice, labelling and any other material provided are for informational purposes only, and are not a substitute for professional medical advice or treatment.
The product information has not been evaluated by the US FDA and / or any other competent authority at this point in the product development process, and any application of the information or product is at the user's discretion and is his / her sole responsibility. The ABD Device is not yet proven against COVID-19, however testing is underway.
Always seek the advice of your physician or other qualified health provider with any questions you may have regarding your health.
Never disregard medical advice or delay in seeking it because of something you have read on this site or on the product information.
Research funding supported by the European Defense Agency and the European Commission