Inspired by Nature...
Excellence in Science
Aquila Bioscience is developing innovative technologies to manage infectious diseases, including COVID-19, using environmentally friendly processes that are safe for everyone.
Current decontamination measures use products that are not safe for skin and are causing damage to the environment. We all affect the environment through our decontamination efforts. Unfortunately, the effects are often negative.
Therefore, there is a need for an environmentally friendly technology that is effective and, most importantly, safe. We at Aquila Bioscience are driven to offer this product in the form of the ABD Device.
Pathogen Capturing Technology
Human pathogens (viruses, bacteria, fungi) must stick to proteins and sugar chains on our internal surfaces to establish an infection. 
Aquila Bioscience technology uses decoy protein and sugar chains that capture human pathogens by their stickers.  Millions of decoys attached to the cotton wipe material bind to pathogen stickers, trapping them like Velcro®️ from which they cannot escape. Aquila Bioscience's signature technology is currently applied to our products; the ABD Device and ProShield.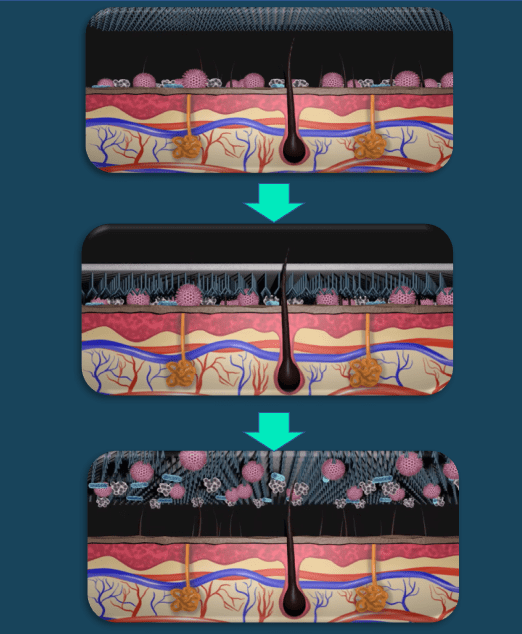 The ABD wipe (Anti Bioagent Decontamination Device) uses pathogen capture technology to remove 99.99% of pathogens, including SARS-CoV-2 (COVID-19), from human skin.  It can be applied safely and comfortably to sensitive areas like around the eyes, nose and mouth.
The product is a US FDA registered Class I medical device that comes in the form of a decontamination wipe.
The ABD device contains no alcohol or toxic chemicals.  By capturing pathogens rather than poisoning them, the ABD device will not promote the development of resistant pathogens. 
The ABD Device comes in the form of a decontamination wipe that enables users to safely capture and remove up to 99.99% of SARS CoV-2 the causing agent of Covid-19 from sensitive surfaces and the human skin such as; around the eyes, nose and mouth. 
Currently being used in everyday and emergency use cases by Defence Force Ireland, the HSE and An Post
This product is only available to purchase by organisations at present.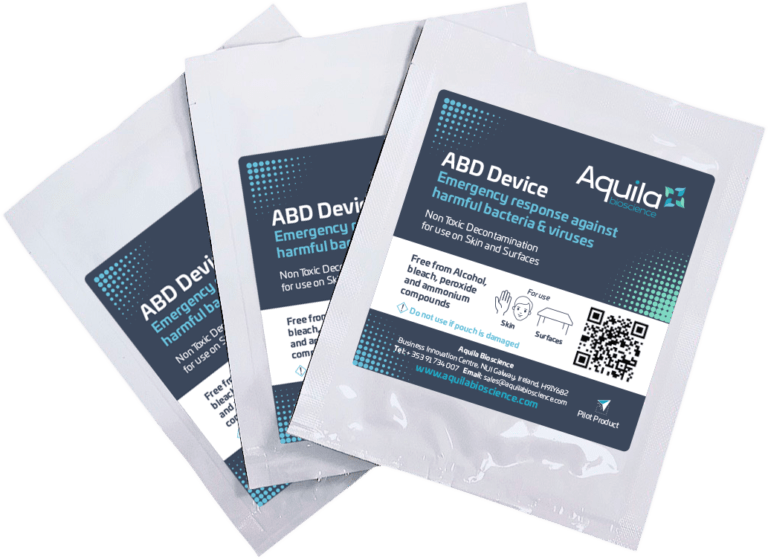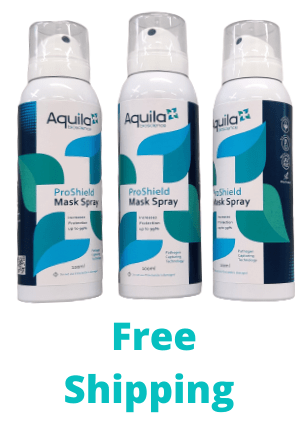 Our upcoming pilot product, ProShield Mask Spray provides an extra layer of protection to individuals wearing re-usable, cotton face masks.
ProShield Mask Spray uses Pathogen Capturing Technology to trap and neutralise viruses, bacteria and fungus spores before they reach the face. Masks treated with ProShield Mask Spray can be laundered and reused.
This product is suitable to families with young children who want to protect their children even further as well as those who are on the go.
Utilising our pathogen capturing technology, we have successfully applied it to ProShield Mask Spray which will be available to purchase in March 2021.